As part of our celebration of FFA week RCHS students hosted a petting zoo for K-8 students on Wednesday. It was a huge hit!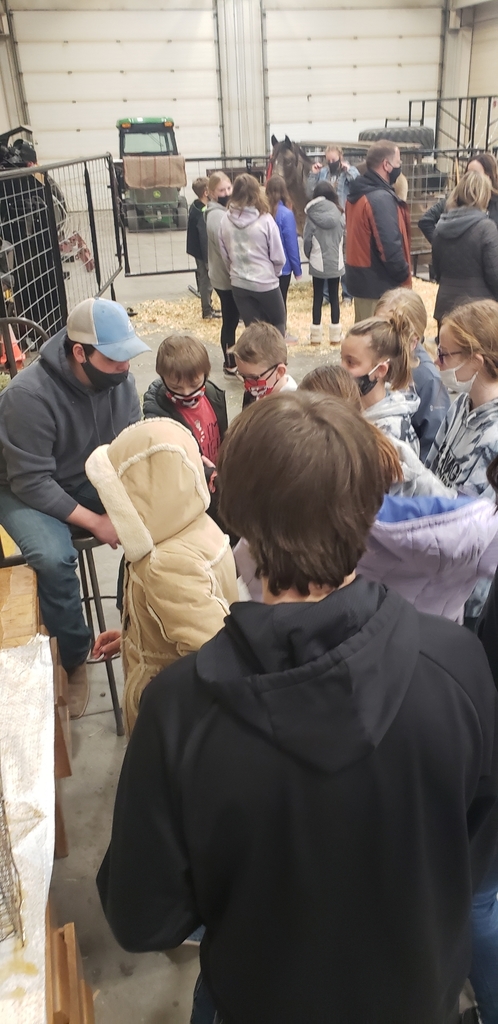 Congratulations to February's Student(s) of the Month: Montana Hammond and Hailey Sharp! Montana Hammond, Junior, has earned a cumulative weighted GPA of 4.0 and has a well-rounded involvement of activities at RCHS: Book Club, Culture Club, Pep Club, Science Club, FBLA, FCCLA, SADD, Volleyball, Baseball Manager, and is the Junior Class President. Hailey Sharp, Junior, has earned a cumulative weighted GPA of 3.81 and has invested herself in the following activities at RCHS: Band, FFA, Jazz Band, Pep Club, STUCO, NHS, Tri-M, Cross Country, Basketball, and Track. She is also a member of the Trap Shooting Team and an active member of her 4-H chapter. Congratulations to these two hard working young ladies on a great month and year. Go Falcons!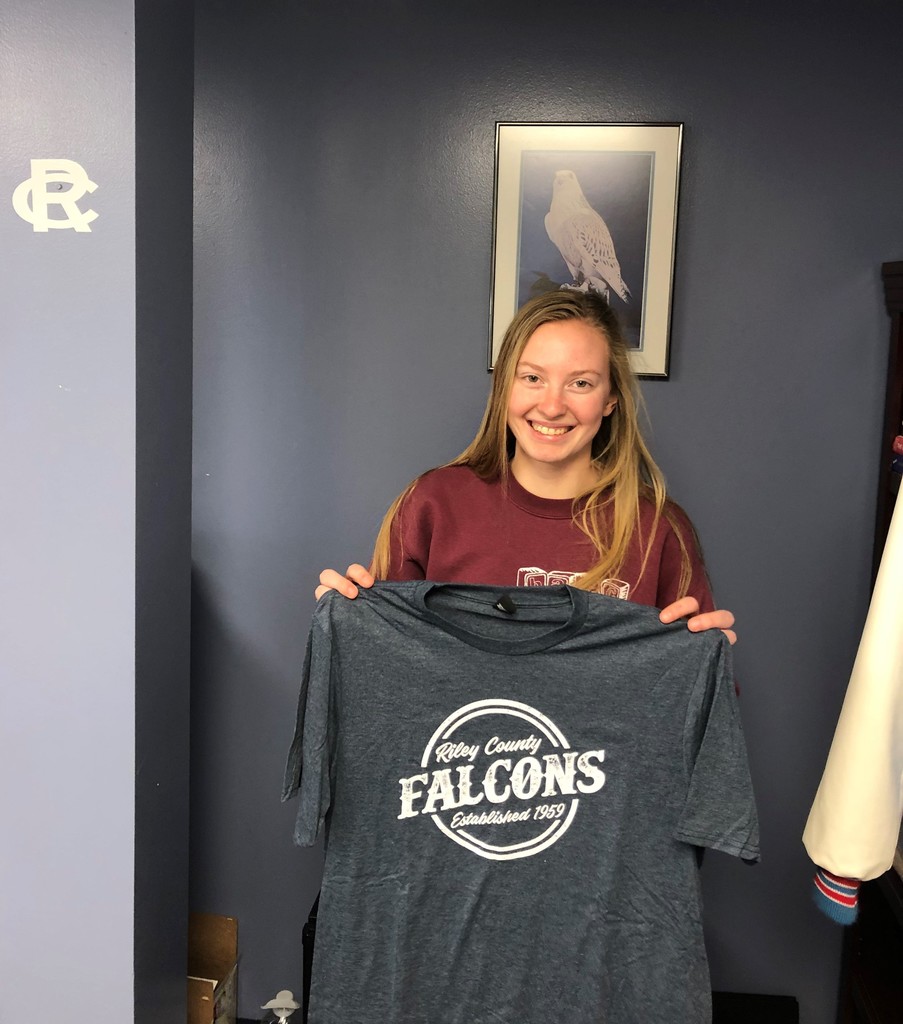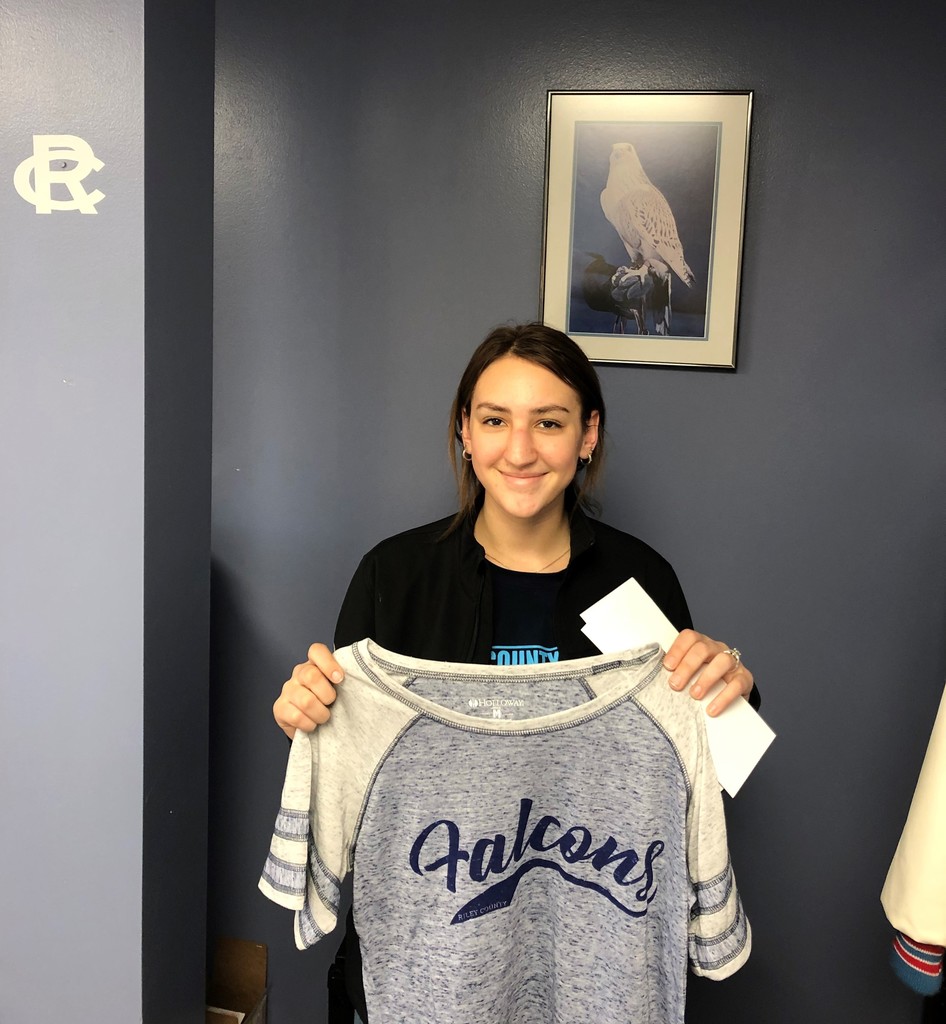 Elementary students lined up to cheer the State Wrestlers, JR Thelwell and Grayden Jackson, on to victory! Go Falcons!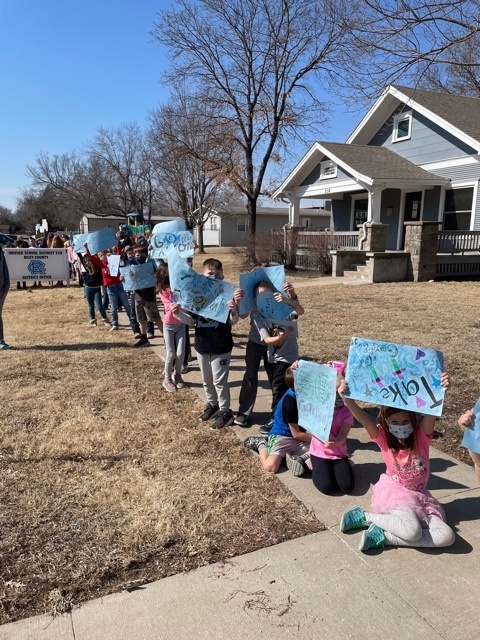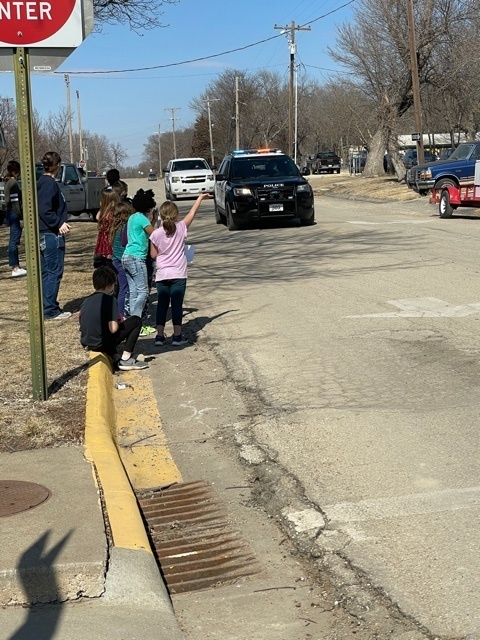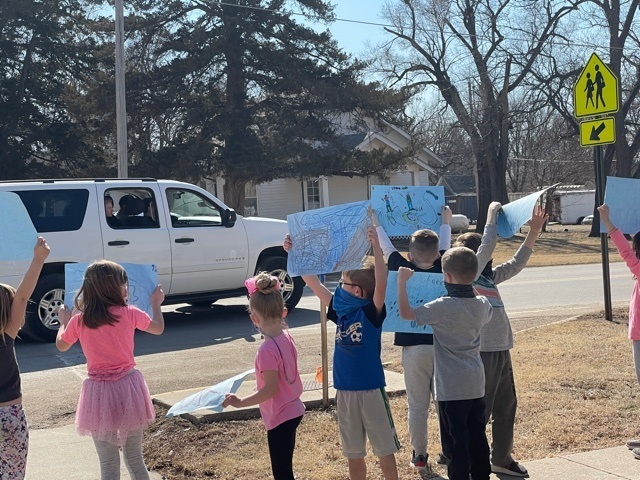 Good luck to wrestling seniors JR Thelwell and Grayden Jackson as they earned the right to compete at state this coming weekend in Hays! They are each one of the last 8 in their respective weight class. Go Falcons! Saturday's substate placing for these two: JR Thelwell: 2nd at 126# Grayden: 4th at 145#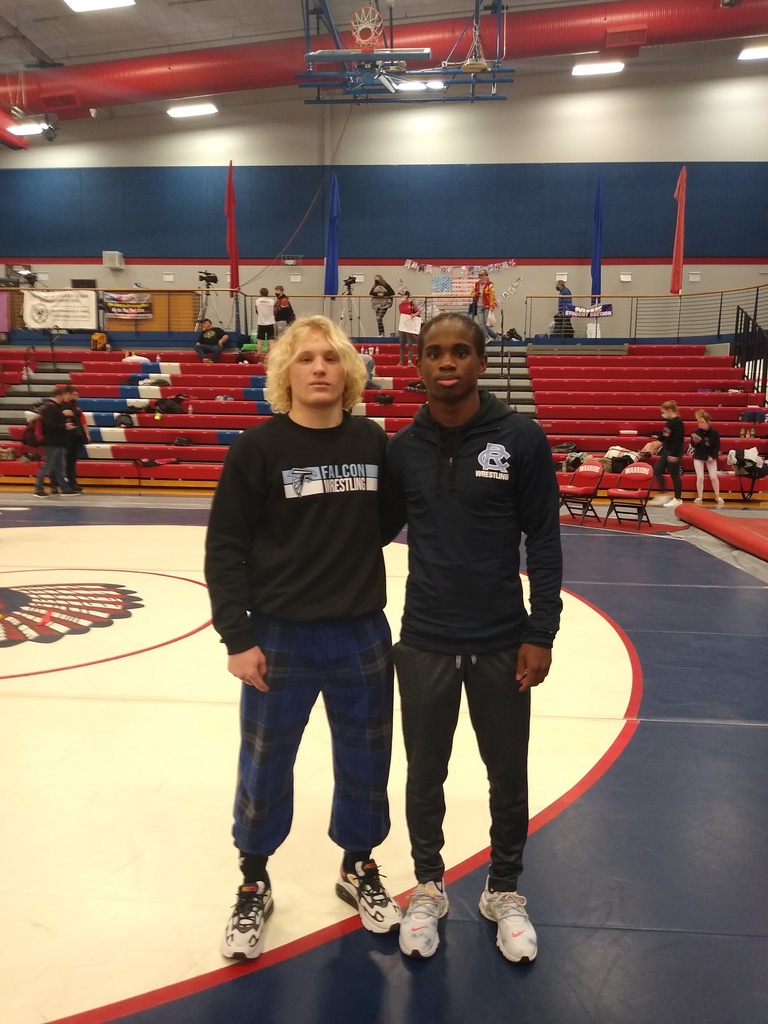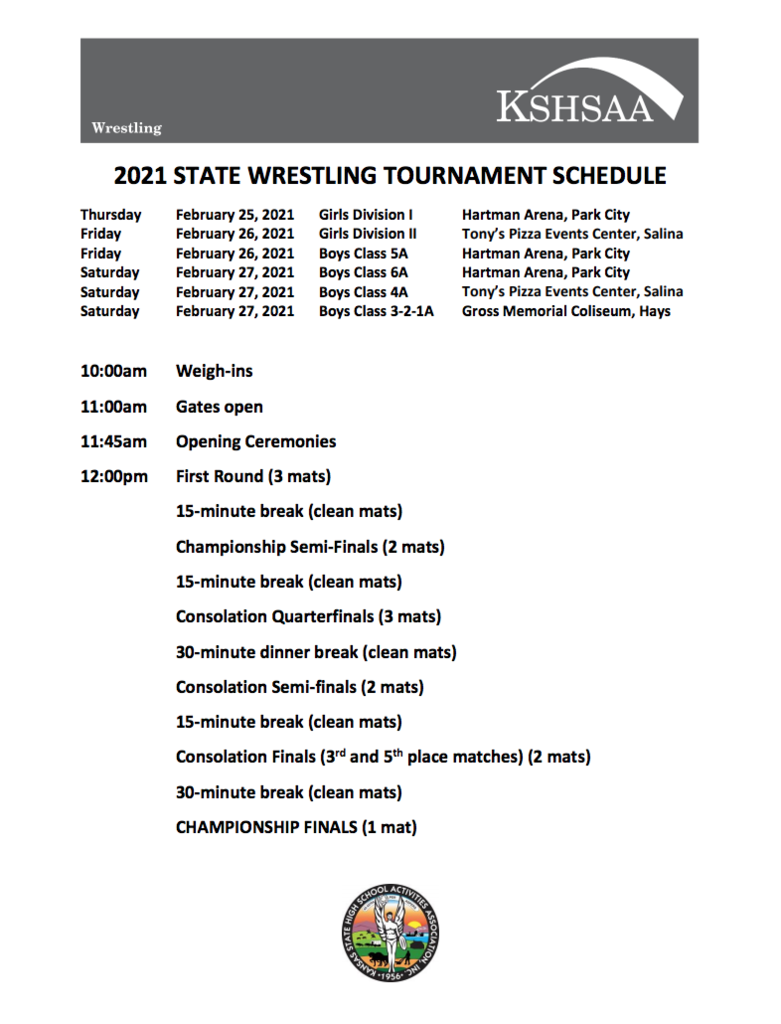 Winter Bus Riding We all know it has been very cold in recent days. In temperatures below 15 or sub-zero wind chills buses will not be warm. Make certain your students are dressed for the weather. Another complicating factor in frigid weather is keeping the windshield from fogging up. A bus load of students in these conditions can make this a real issue. Drivers might have roof hatches open and even a window or two lowered to make certain they can see out the windshield and side windows. Drivers will keep it as warm as they can. Remember buses can and do break down occasionally. Please dress your students warmly enough they can safely sit on an unheated bus for at least an hour. Life is full of surprises so be prepared.

The Food Service department makes a valentine's treat for the builders at the grade school. Thank you for your thoughtfulness, ladies!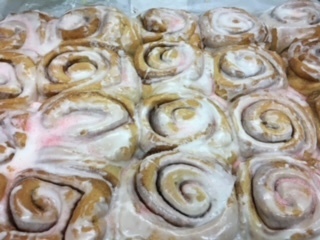 Here are our wrestling team district placers that will advance to Regionals next week hosted at Rossville. JR Thelwell: Champion Grayden Jackson: Champion Samson Waggoner: 2nd Luke Hebert: 3rd Anthony Cervantes: 4th Brogan Schuh: 4th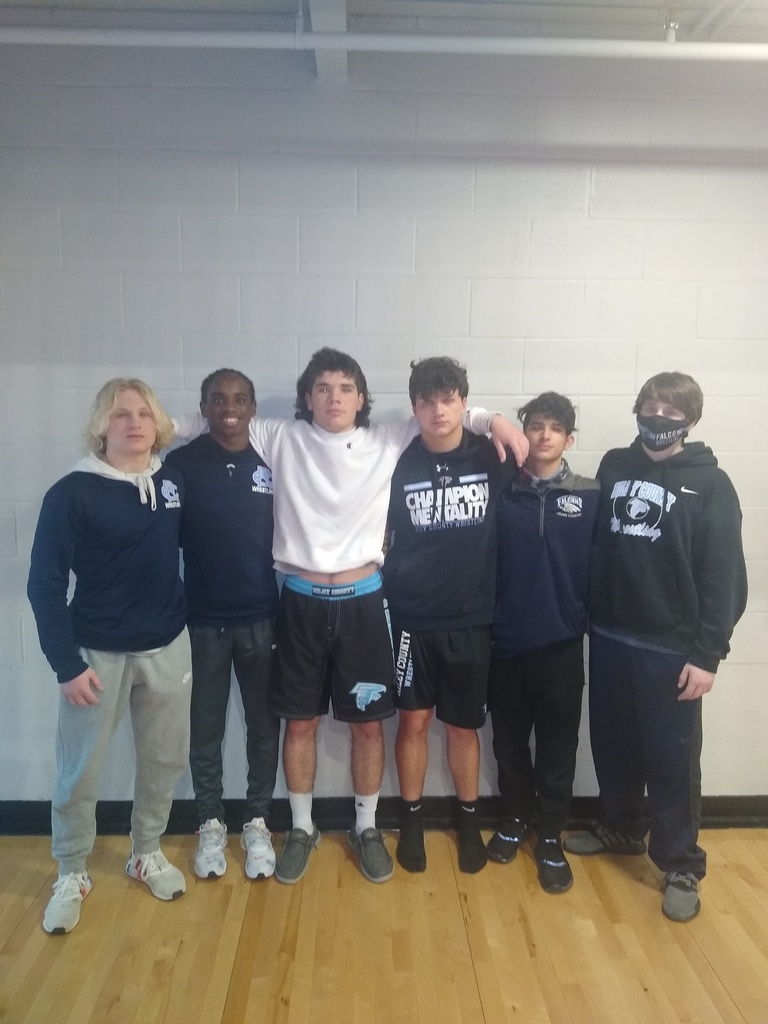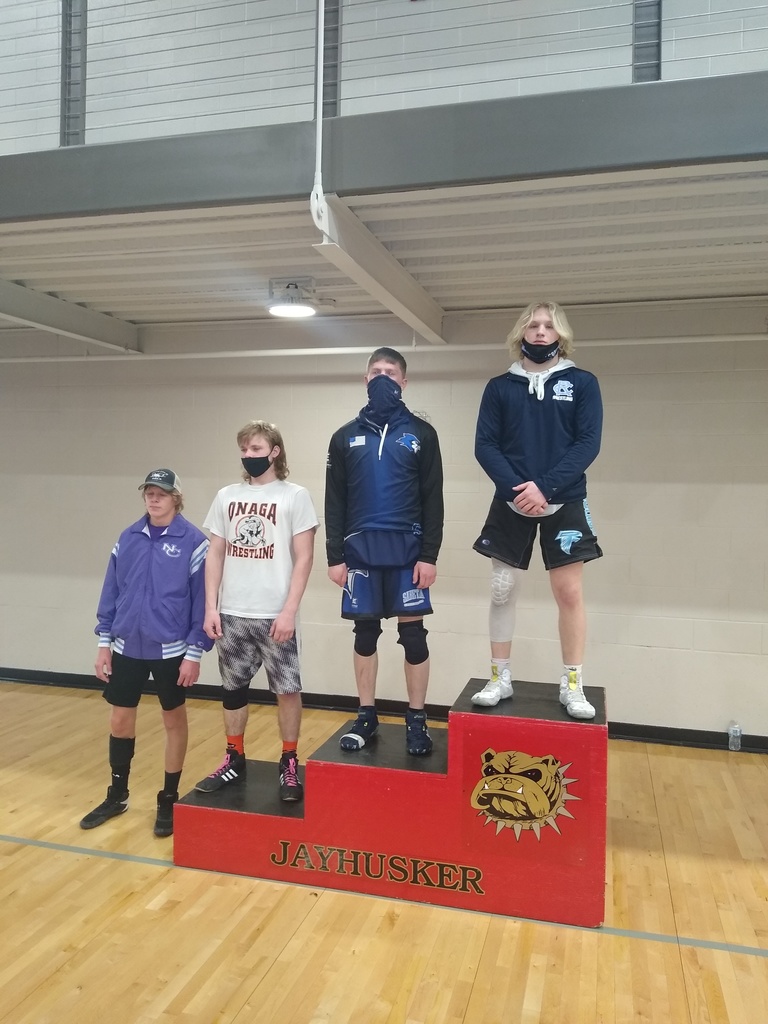 Progress is continuing at the grade school. The locker rooms are getting sealant on the block walls and the roof decking put on the class rooms addition.

Congratulations to our Scholars Bowl team for finishing 3rd place at MEL Scholars Bowl. We had a 3-way tie for 2nd with Silver Lake and Waubansee but due to the round robin event, teams that tie then go to margin of victory, which earned us 3rd place with Silver Lake taking 2nd. Rock Creek won the tournament. We went from 1-6 at Regionals to 3-2 at league! BreAnn Meisner, Owen Meisner, Ashton Fleener, Macy Sabo, and Ryan Pierce competed this season. Go Falcons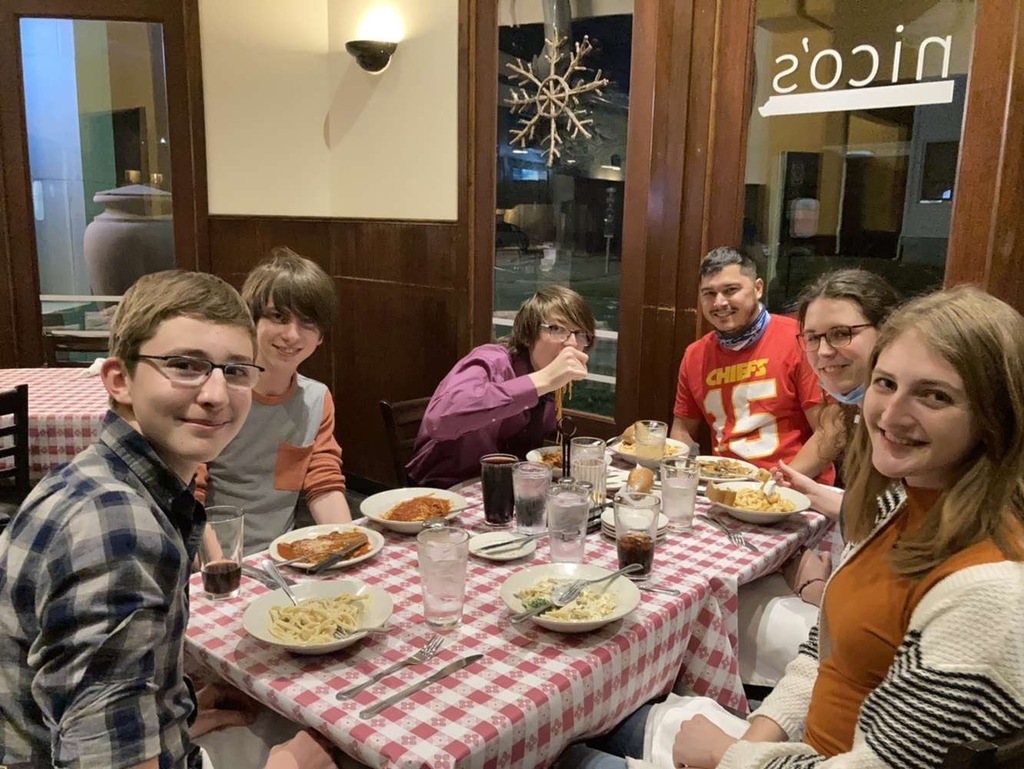 Congratulations to Jacob Wendland, January's Student of the Month! Jacob, 9th Grade, has earned a Current Simple GPA of 3.71 while being involved in the following RCHS activities: Art Club, FFA, Jazz Band, and Pep Band. In addition to his extracurricular activities at the high school, he is also an active member of 4-H.
Congratulations to these young men for placing at the MEL wrestling tournament last Friday! Pictured Left to Right: Anthony Cervantes 2nd @ 106# JR Thelwell 1st @ 126# Grayden Jackson (Not Pictured) 2nd @ 145# Samson Waggoner 2nd @ 160# Jackson Shanahan 2nd @ 182#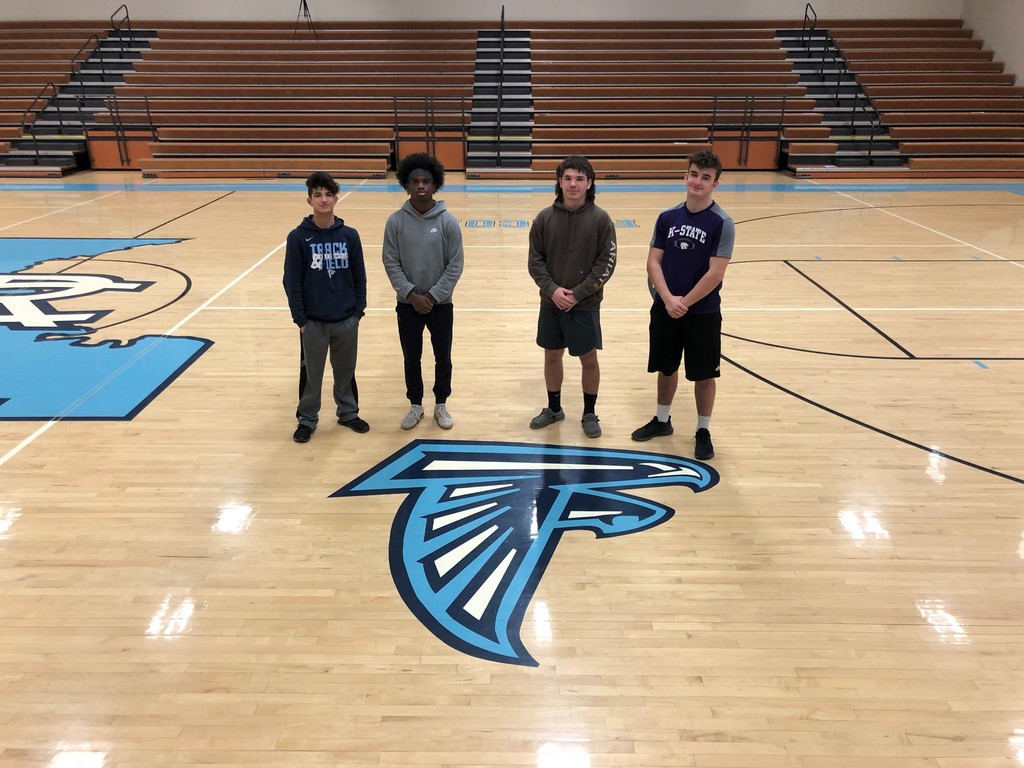 Fawn Wohler, grade school custodian, sets up individual tables and chairs every morning for breakfast and lunch. This is one way our school has made sure we are following the guidelines set up by the Riley County Health Department and KSDE. Thank you to all our custodians who are going the extra mile in helping our schools stay healthy.
Congratulations to Olivia Headley (treble choir), Lily Lagerman (alternate), Max Peterson (mixed choir), and Ryan Pierce (mixed choir), who have all successfully auditioned and been selected for the All State choirs as either participants or alternate! They first auditioned for district choir and some of the top scores from each voice part move on to the all-state choir. They have now competed against other students from all across the state and against all 1234A division schools in Kansas! They will participate in virtual rehearsals in early February to learn their music and how to record to a click track and then "perform" in a virtual choir ensemble with all other All-State choir participants. Congratulations to these young men and women!

School lunches provide a nice hot meal for our students during the cold snowy days of winter. Thanks to our food service workers for all they do!

Due to quarantine of our boys basketball team we have postponed our Winter Royalty (scheduled for next Friday, January 29th) until Tuesday, February 9th.
Congratulations to two RCHS students for their selection to the 1234A All-State Honor Band! Juniors, BreAnn Miesner (Clarinet) and Brandon Moots (Horn) were recognized for this tremendous honor. To be eligible, students first audition against all students 1-6A in the North Central District, then re-audition against all 1234A students in the state. Our state conference is virtual this year, which means these two will be attending several Zoom rehearsals to learn music and how to record to a click track. Then they will create a virtual ensemble with all of the All-State members. Thank you to Mrs. Lloyd for her well established program, and helping contribute to their recognition! Congratulations again BreAnn and Brandon! Go Falcons!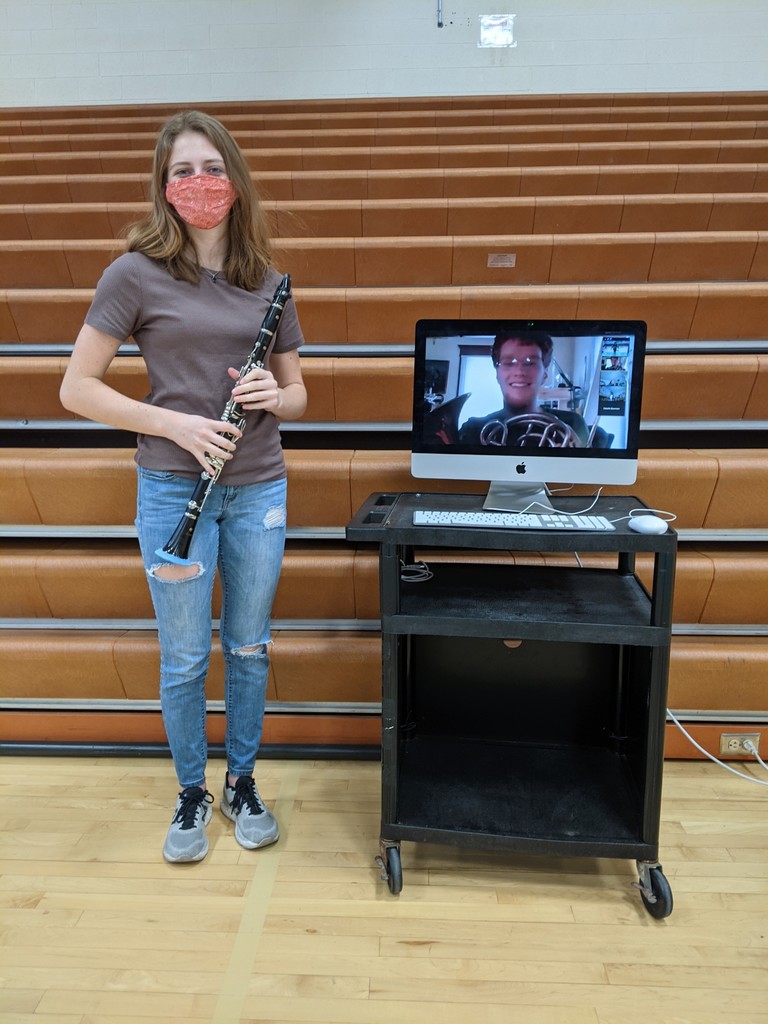 The grade school continues to see progress on the building project. Pictures show the new entrance to the new gym, new fire alarm system, and accessibility with a new ramp.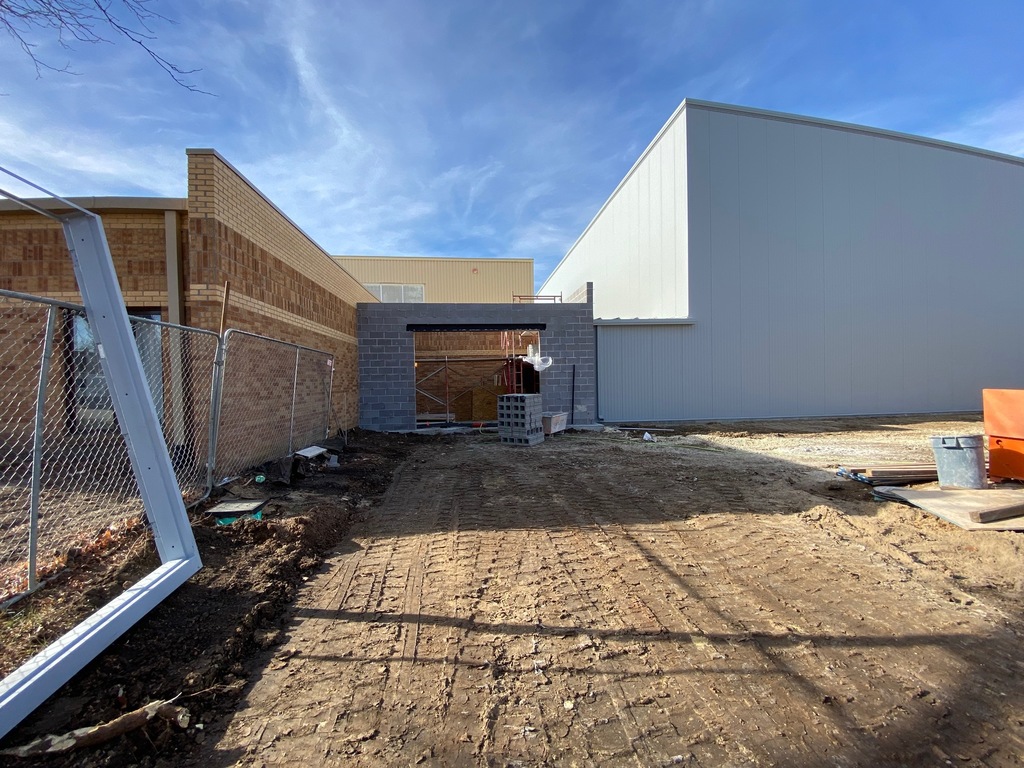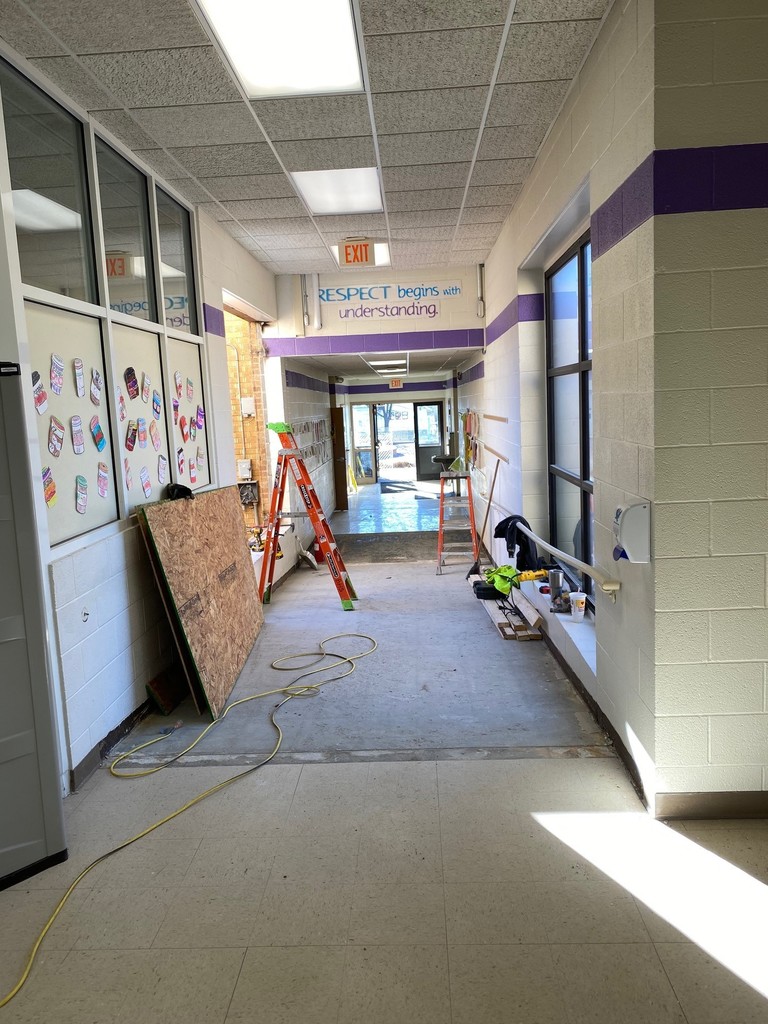 Over Christmas break the district office had new energy efficient windows and doors installed.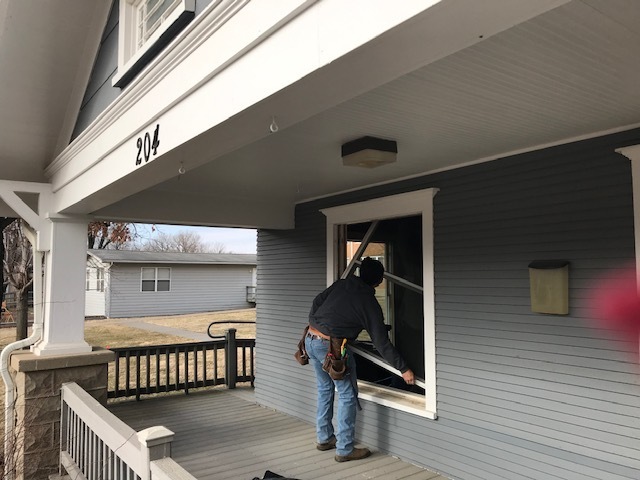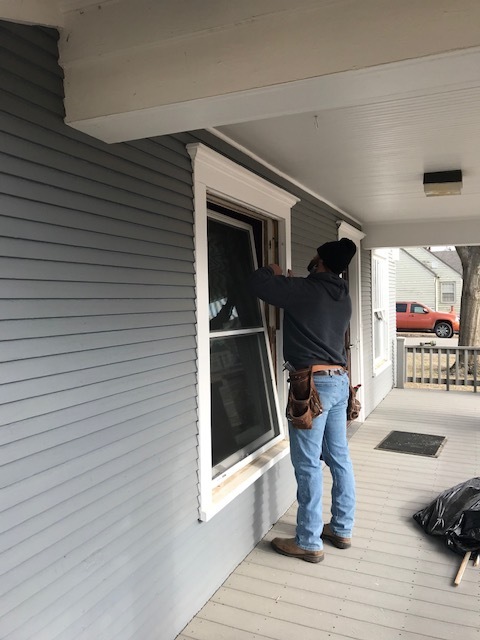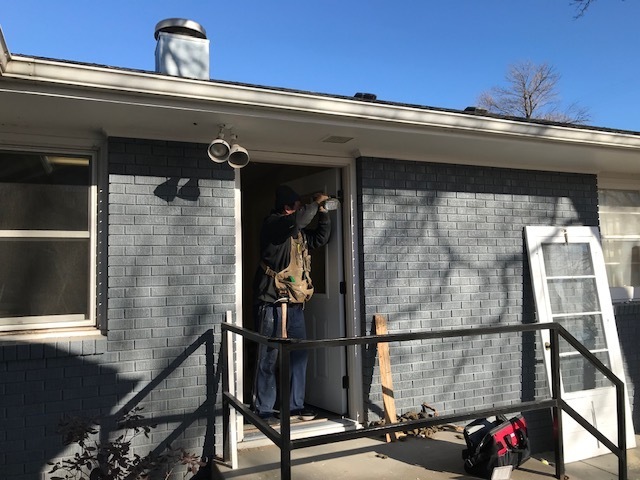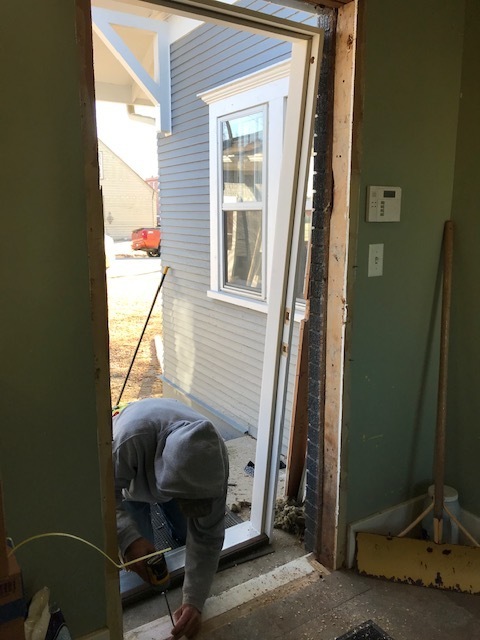 New blinds were installed in several classrooms at the high school.